A világméretű szegénység ellen küzdő Global Poverty Project szervezésében a New York-i Central Park kellős közepén zajló Global Citizen Festival, melyen a Foo Fighters, a Black Keys, Neil Young és a Crazy Horse, a dél-karolinai Band Of Horses és a szomáliai-kanadai énekes-rapper K'naan is fellép, nemcsak hogy ingyenes rendezvény (a szervezet honlapján jelentkezők között több mint 60 ezer jegyet sorsoltak ki), de több tévécsatornán és az interneten is élőben közvetítik – magyar idő szerint 22:30-tól itt a MusicPress blogon is egyenes adásban nézhető! (FRISSÍTÉS: a fesztiválközvetítés teljes felvételét többször megismétlik vasárnap folyamán, például magyar idő szerint délután 3-tól is – K'naan után a Band Of Horses körülbelül fél 4-től, a Black Keys 4-től, a Foo Fighters fél 6-tól, Neil Young és a Crazy Horse háromnegyed 7-től látható!)
a tervezett fellépési időpontok magyar idő szerint, szeptember 29-én szombat éjszaka:
23:00 K'naan
23:30 Band Of Horses
00:00 The Black Keys
01:00 Foo Fighters
02:30 Neil Young with Crazy Horse

a fesztivál beharangozó kisfilmje:
Déri Zsolt
FRISSÍTÉS: egy kép és egy tízperces videó a fesztivált záró nagy közös együttzenélésről, ahogy Dave Grohl és a Black Keys-frontember Dan Auerbach is ott pengeti Neil Young oldalán a Rockin' In The Free World című dalt!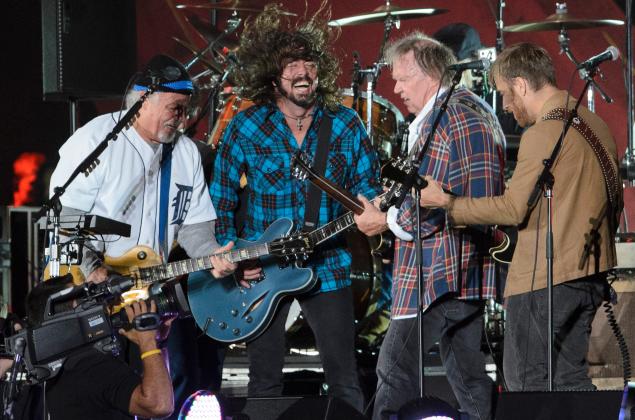 FRISSÍTÉS: itt a teljes Neil Young & Crazy Horse-koncert, alatta pedig a Foo Fighters (egy jó ideig utolsó) fellépése!
1. Love And Only Love
2. Powderfinger
3. Born In Ontario
4. Walk Like A Giant
5. The Needle And The Damage Done
6. Twisted Road
7. Fuckin' Up
8. Rockin' In The Free World


1. Times Like These
2. All My Life
3. My Hero
4. Learn To Fly
5. Arlandria
6. These Days
7. Walk
8. Best Of You
9. Everlong
http://www.foofighters.com/us/news/hey-everyone-dave-here

... és itt a Black Keys teljes fellépése is:
Howlin' For You
Next Girl
Run Right Back
Same Old Thing
Dead and Gone
Little Black Submarine
Money Maker
Strange Times
Nova Baby
She's Long Gone
Tighten Up
Gold On The Ceiling
Lonely Boy
I Got Mine