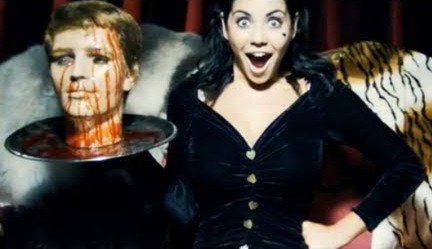 A Marina And The Diamonds néven dolgozó 1985-ös születésű, görög származású walesi dalszerző-énekesnő, Marina Diamandis a 2010-es The Family Jewels debütalbum turnéjával 2011-ben a Szigetre is eljutott, de addigra már a Fear And Loathing és Radioactive klipdalpárral el is kezdte felépíteni Electra Heart című második nagylemezét, mely idén áprilisi megjelenésekor rögtön No.1 pozícióba jutott a brit listákon, a júliusi amerikai kiadáshoz azonban egy roppant slágeres új dal is készült pluszba How To Be A Heartbreaker címmel. A popproducer Dr. Luke-kal rögzített számhoz tegnap este megérkezett a klip is, mely a Primadonna és Power And Control kislemezdalok videója, illetve az albumon tárgyalt női sztereotípiákat szemléltető The Archetypes és Su-Brabie-A kisfilmek után a 7. részként került a Casper Balsev rendezővel forgatott Electra Heart videosorozatba – és a szerepekkel játszó énekesnő itt ismét fekete hajszínnel látható, mint a tavaly nyári első részben.
a videosorozat előző darabjai, visszafelé, fordított kronológiai sorrendben:

http://electraheart.tumblr.com
http://www.marinaandthediamonds.com
Déri Zsolt
FRISSÍTÉS: a 19 éves amerikai rapperlány, Kitty Pryde bizarr How To Be A Heartbreaker remixe, melyet október 2-án tettek közzé a Noisey oldalán ezzel a lajháros videóval!