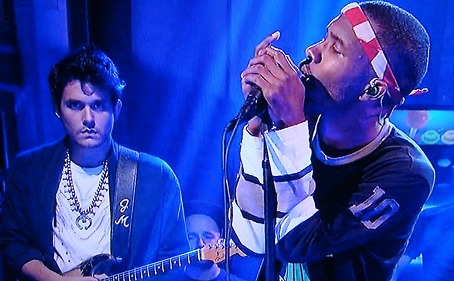 Az idei év egyik legnagyobb befutója, az amerikai R&B dalszerző-énekes Frank Ocean (született: Christopher Breaux, 1987), aki az Odd Future nevű Los Ageles-i hiphop kollektíva tagjaként Nostalgia, Ultra című mixtape-je és a No Church In The Wild című Jay-Z/Kanye West-slágerben való közreműködése után nagy publicitást kapó coming outjával is megalapozta briliáns első albuma, a júliusban megjelent Channel Orange sikerét. Az énekes néhány órával ezelőtt a Saturday Night Live műsorának vendégeként lépett fel, az ő vendége pedig nem más volt, mint a lemezén is gitározó John Mayer (akinek szintén nemrég jelent meg egy remek albuma, Born & Raised címmel). A közösen előadott két kislemezdal, a Thinkin Bout You és a Pyramids tévéfelvétele mellett Frank Ocean teljes sikeralbuma is meghallgatható itt a MusicPress blogon. FRISSÍTÉS: pár órával később megérkezett Nabil rendezében a Pyramids nyolcperces pszichedelikus videoklipje is, amiben John Mayer szintén szerepel!
a közös Saturday Night Live fellépés a Thinkin Bout You és Pyramids dalokkal:

Frank Ocean első tévéfellépése júliusban Jimmy Fallon műsorában, a Roots együttes kíséretében előadott Bad Religion című dallal:

Frank Ocean albuma, melyet először Tumblr-oldalán tett közzé, itt hallható:
1. Start
2. Thinkin Bout You
3. Fertilizer
4. Sierra Leone
5. Sweet Life
6. Not Just Money
7. Super Rich Kids (feat. Earl Sweatshirt)
8. Pilot Jones
9. Crack Rock
10. Pyramids
11. Lost
12. White (feat. John Mayer)
13. Monks
14. Bad Religion
15. Pink Matter (feat. André 3000)
16. Forrest Gump
17. End
+
itt az album rejtett bónuszdala, az Odd Future sztárrapperével, Tyler The Creatorral közös Golden Girl is:

FRISSÍTÉS: az énekes szeptember 24-én egy Blue Whale című új dalt is közzétett!

FRISSÍTÉS 2: 2013 februárjában előkerült egy Eyes Like Sky című dal is, mely annak idején nem került fel a Channel Orange sikeralbumra!
Déri Zsolt