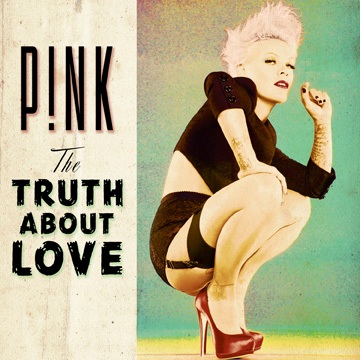 P!nk visszatérő albumáról, a 2008-as Funhouse-t négy évvel (a köztes Greatest Hits... So Far! slágerválogatást két évvel) követő The Truth About Love-ról pár napja már szerepelt itt a MusicPress blogon egy dal (az egyben Lily Allen visszatérését is jelentő True Love), de most itt a 33 éves amerikai énekesnő teljes új lemeze, melyen férfi vendéghangok is hallhatók (a Just Give Me a Reason című dalban a Fun. együttes frontembere, Nate Ruess, míg a Here Comes The Weekendben nem más, mint Eminem), a legörvendetesebb azonban a zeneszerző-producerek között Greg Kurstin (Kylie Minogue, Ladyhawke, Lily Allen, Little Boots, Santigold, Marina And The Diamonds stb.) feltűnése. Mostanra az album összes száma felkerült az énekesnő YouTube-csatornájára lyric video formájában, így itt meg is hallgatható az egész lemez – és a dalszövegeket is láthatjuk közben.
a sorrendbe szedett dalokból összeállított playlist:
az album dallistája:
1. Are We All We Are
2. Blow Me (One Last Kiss)
3. Try
4. Just Give Me A Reason (featuring Nate Ruess)
5. True Love (featuring Lily Rose Cooper)
6. How Come You're Not Here
7. Slut Like You
8. The Truth About Love
9. Beam Me Up
10. Walk Of Shame
11. Here Comes The Weekend (featuring Eminem)
12. Where Did the Beat Go?
13. The Great Escape


az első kislemezdal, a Two Door Cinema Club-gitártémát idéző Blow Me (One Last Kiss) klipje is itt van, színes változatában:
Déri Zsolt
FRISSÍTÉS: október 10-én megérkezett a videoklip az album második kislemezdalához, a Greg Kurstin produceri segédletével készült Try-hoz is!