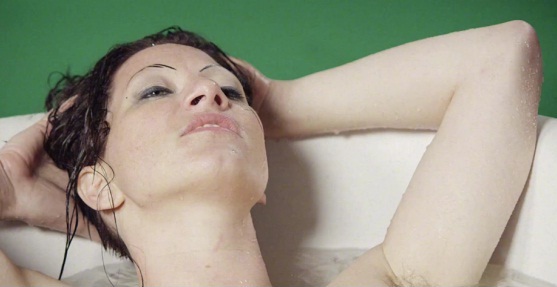 A sztárvendégekkel való kollaborációkra épülő idei The Flaming Lips And Heady Fwends album legszebb felvételéhez, az eredetileg Ewan MacColl által Peggy Seegernek írt, majd Roberta Flack által világsikerre vitt The First Time Ever I Saw Your Face című szerelmes dal Erykah Baduval közös feldolgozásához a Flaming Lips (és vizuális brigádja, a Delo Collective) májusban már forgatott egy videoklipet, melyben a fekete neo-soul énekesnő mellett annak húga, Nayrok Adub is meztelen szereplést vállalt, ám a művésznőkkel való egyeztetés nélkül közzétett végeredményből óriási botrány lett. A letiltott klip helyett Wayne Coyne zenekara egy másik énekesnővel, a Dresden Dolls duó szólóban is sikeres frontleányával, a természetes meztelenségtől sosem ódzkodó Amanda Palmerrel rögzítette újra a dalt és a videót, ám míg az új feldolgozás is kellően egyedi vokális megközelítést kínál, addig a vizuális kíséret jóval szolidabb lett.
a letiltott klipverzió Erykah Baduval és fonott hajú húgával, Nayrokkal...
... és az Amanda Palmerrel felvett új változat:

összevetésként a dal két legismertebb régi verziója 1957-ből és 1969-ből:

Amanda legutóbbi klipje a Want It Back című szerzeményéhez...
... és 2011-es slágere, a Map Of Tasmania:
http://twitter.com/amandapalmer
http://amandapalmer.net
http://flaminglips.com
Déri Zsolt